Our Charter Captains
Know that you are in capable hands when on a saltwater fishing charter in Truro, Massachusetts, from Reel Deal Fishing Charters. We have four highly experienced captains to take you out on one of our three fully equipped vessels. While our goal is to provide you with the best possible fishing charter, safety is our top priority! Reel Deal is fully insured and all our Captains are enrolled in a random drug testing program. Read the following bios to learn more about the captain who will be in charge of your fishing charter:
Captain Bobby Rice, Owner/Legend
Bobby Rice, a Cape Cod native and long-time Truro resident, arguably has saltwater running through his veins, after spending the majority of his life on local waters. As a teenager laden down with rods, tackle, and an aluminum skiff, his adventures began and his devotion to fishing has continued to grow. He has been involved in commercial fishing for more than 30 years and has encountered many prosperous fishing 'holes' and learned countless tricks of the trade through his endless hours spent on the waters from the Billingsgate shoals to Race Point to Martha's Vineyard.
Striped bass, black sea bass, and bluefin tuna fishing are among his specialties. He also fishes for bluefish, scup, squid, cod, haddock, pollock, and sharks. Bobby's love for fishing runs deep and it shows. Stop in any local tackle shop and ask for a reference and you will see as he is rapidly becoming a local legend even though he is still a relatively young man. He authors a monthly column for On The Water magazine, and is a member of the Pro Teams for Mercury Marine, Van Staal, RonZ Baits, Daddy Mac Lures, Cortland Line, Smith Optics, Grundens and Invincible Boats.
Bobby has admitted on several occasions that giving someone the experience of being on the water and catching big fish is more fun than catching them himself. This is what prompted him to obtain his USCG Captain's license to share his knowledge of the area and love for fishing. He completed the USCG certified OUPV–Near Coastal course at New England Maritime in the fall of 2000.
Bobby is an active member of the local community, assisting with the saltwater creatures' project for the Truro preschool and also coaching one of the recreational basketball teams.
On any given day, May through October, if you are out on the water in the outer Cape Cod area, from the waters of Truro and Provincetown around the hook to the Orleans ocean side, you likely will see Captain Bobby in his center-console fishing boat, which some have called a floating tackle store, because of his large inventory of rods/reels and tackle equipment. The key to the success of Reel Deal Fishing Charters is that in addition to his busy fishing charter schedule, Bobby is out there on the water doing "research." This means that anytime he has an open day, he is trying out new gear and tackle, and continuing to track the fish. Reach out to us to schedule a day on the water with Captain Bobby aboard our 33' Invincible fishing machine, Done Deal.


Captain Ian Wall
Reel Deal eagerly welcomes back Captain Ian Wall for 2023! In his tenth season operating fishing charters for us, Captain Ian continues to be our rising star, who, under the guidance of Captain Bobby Rice for the past several years, has quickly learned many of the secrets and skills of this dynamic industry. These have made him an amazing angler at a young age. Don't let his youth fool you. Anglers love fishing with the contagiously enthusiastic and sharply skilled Captain Ian Wall --he lives, breathes, and loves, loves, loves to fish. This shows through his hard work and dedication to life on the water, with many 5-star customer reviews as he excels in striped bass and bluefin tuna fishing. At the age of 6 years old, Ian went on charters with Captain Bobby and was instantly hooked on Cape Cod fishing. It was then he knew his life dream was to spend time on these waters.
A Vermont native, Ian grew up fishing the Lake Champlain coastline and couldn't wait for his summer trips to Cape Cod for the saltwater fishing scene. Graduating from Colchester High School, Ian pursues a full-time career in the charter fishing industry and looks forward to sharing his love and energy for fishing with you. He operates our fishing 26' SeaCraft Master Angler, Reel Deal II. Contact us today to book your next striped bass or bluefin tuna fishing charter.
Captain Bobby and Captain Ian truly are the #DreamTeam!
Captain Chris Pavlakis
Reel Deal Fishing Charters excitedly welcomes back Captain Chris Pavlakis for a third season! Captain Chris Pavlakis enthusiastically joins our rock star crew of Cape Cod charter captains and as with all our Captains - we only hire the best of the best! From a young age Chris has been fishing the waters of Cape Cod and Florida possessing an impressive native ability to find and catch fish as well as just being a really fun person to spend time with on the water! If Captain Ian is the next Captain Bobby Rice, could we have possibly found our next Captain Ian? We believe so!
Chris excels not only on the water, but also is currently furthering his studies at a Florida university. We eagerly look forward to a successful fishing season with our new captain, operating our 26' SeaCraft Tournament, Reel Deal 3.
Captain Elena Rice
A Truro resident and descendant of long-time Provincetown Portuguese mariners, Captain Elena has partnered with Bobby Rice to bring you the best fishing experience around. Starting out as Bobby's commercial fishing protégé, Elena has taken a more prominent role as the sales and marketing engine for Reel Deal. She is the friendly voice you speak to when booking your trip and she will go the extra mile to assure your Reel Deal experience from start to finish is top notch! Despite her land obligations, her ocean spirit only stays docked for so long as she still manages to grab a few minutes on the water particularly when sanity begins to escape her.
Elena is a USCG-certified captain, completing the OUPV--Near Coastal course at New England Maritime, although her ambitions go beyond the waters as well. She has graduated with honors from Harvard University and is currently employed as a software engineer for Amazon.com. Elena also has served as a recreational coach for youth soccer and basketball, as well as a member of the Pamet Harbor Commission, appointed by the Truro Board of Selectman.
Team R.I.C.E (Robert, Ian, Chris, Elena) greatly looks forward to fishing Cape Cod waters with you!
---
First Mate Brady Rice
It is hard to believe that our baby is now a Reel Deal first mate! Brady Rice our oldest son will be joining his father, Captain Bobby Rice, on charters as first mate starting with the 2022 Cape Cod fishing season. Brady has been fishing with dad since he was a wee lad and not only has grown up to look a whole lot like dad - but at a young age has also learned many of the tricks of the trade for Cape Cod fishing.
Also an honors student at Nauset Regional High School Brady excels in math, science, and other subjects. Ask him about his deluxe lounge chair woodworking project!
We love to see our family business grow and First Mate Brady looks forward to fishing with you!
First Mate Fran Taylor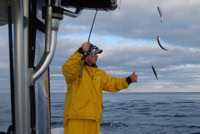 A long-time fishing sidekick of Captain Bobby, you have most likely met Fran Taylor over the past decade.
Fran joins us on weekend charters throughout the summer whenever his schedule allows and brings with him many years of fishing experience, plus a winning attitude of someone who is beyond content being out on the water. A Boston area executive manager for Hertz Car Rental, Fran also provides a great knowledge of business management and marketing in the travel industry.
Personal Trainer & Fitness Coach Jan Taylor
Jan Taylor keeps our captains and crew going with exceptional advice for overall health, nutrition, and staying fit for the battle. She is the owner and lead coach of Get Lively: Mindful Health & Fitness Coaching. Contact her to build your own fitness program.
Contact us today for more information about the captains and crew on our fishing charters. All our Captains are members of NACO. We proudly serve customers in Truro, Massachusetts, and surrounding communities throughout Cape Cod and New England.
Current Conditions
Today's Reel Deal forecast: Tight Lines
On Facebook